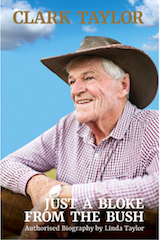 Clark Taylor: Just A Bloke From The Bush
It is Clark's heartfelt desire that this book be a candid account of his life.  He speaks frankly about success and failure, the devastation that acting against our own moral compass causes, and the effect it has on those you love.  He shares his incrdible depths of pain in his life, and God's amazing grace that restored him.  It's an inspiring tale of love and dedication.
From his early days as a barely literate stockman in the Outback to an erudite man of learning and doing.  From the red dirt of Australia to packed churches - Clark has undertaken gruelling adventures and brushes with scandals.

Above all, this book is a story of grace, grit, and the Aussie spirit.  It is about getting up agai, no matter what, to have another go.